About Us
The Owners: Pat and Melynn Murphy
Pat and Melynn Murphy grew up in small towns in southwest Kansas. They met while in college and soon discovered they were born in the same hospital. After graduation, they married and in 1979 they found themselves living in Colorado and quickly fell in love with the mountains and the vast, natural beauty of the state.
Pat and Melynn Murphy are transforming Estes Park resort property with an energetic and infectious spirit. In 2011 they purchased a rundown resort; re-named it Murphy's River Lodge and renovated the property into one of Estes Park's most popular lodgings.
Fast forward to 2017. Pat and Melynn Murphy combined their Scottish and Irish heritages to create a place which encourages family, friendship and community.
The Murphy's believe people want to make memories that last a lifetime—memories which can be passed down through the generations. They want guests to feel joy in their hearts just as they do when they themselves visit Murphy's River Lodge. They both feel a unique energy when they are in Estes Park and are thankful that their dreams have been realized for generations to come.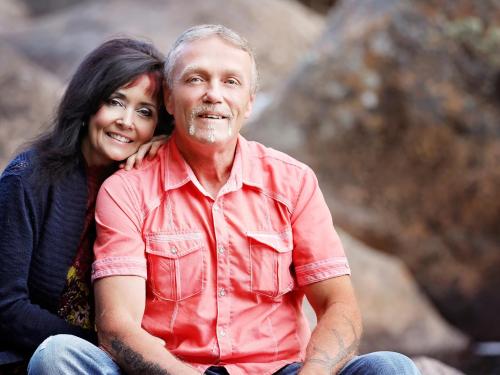 The Managers: Bruce and Loretta Hetke
Bruce and Loretta have been with Murphy's for nearly 8 years; first at Murphy's River Lodge and now at Murphy's Resort. Coming from Wisconsin the Hetke's enjoyed the camaraderie they found while hiking, enjoying laughs and meals around campfires, and fishing. They'd visited Colorado many times to spend time with their daughter and other relatives and felt the lure of Colorado calling to them.
When the opportunity for managing Murphy's River Lodge appeared Bruce thought it would be a great job to have. He knew it was the perfect place for Loretta and him to hang their hats. After managing the Lodge they moved over to Murphy's Resort. Today they blend effortlessly into Murphy's Resort as though it's their own home … which they feel it is.
Loretta is a people person and always looking for ways she can help others. She, along with her husband, had been in the hospitality industry all their life. She and Bruce take pride in caring for the staff's needs, the property, the landscape and the myriad of activities they offer guests, whether complimentary bikes in the summer or snowshoes in the winter.
"We love having the national forest and national park right here and there's ample opportunity for hunting, fishing and winter sports. I can relate to just about everybody that comes through the door because I've been everywhere. I can relate to our guest," says Bruce.
Bruce and Loretta enjoy daily walks around Lake Estes with their beloved Stella (standard poodle) in preparation for their future walk along parts of the Appalachian Trail and The Camino de Santiago—a hike designed to give them ample opportunity to meet people from around the world. "We just like people," laughs Bruce.