Reunions & Group Gatherings
Murphy's Resort encourages unity with family and friends and offers a variety of activities to encourage a sense of community. We enjoy assisting travelers, families and adventure lovers to make the most out of their mountain experience. Our affordable room rates are designed for all budgets as are our two on-site homes boasting full kitchens and endless amenities.
Murphy's is an Estes Park resort conveniently located within a short walk to Lake Estes, surrounded by spectacular mountains views. Murphy's Resort offers affordable lodging, pools and playgrounds, private grills for guest use, comfortable beds and clean rooms with everything desired for an enjoyable stay in Estes Park.
Community Room
Begin your day with a tasty, complimentary breakfast in our brightly colored Community Room where the unique paintings from our popular Sip-n-Paint classes adorn the walls and ceilings. Breakfast includes bottomless coffee, fresh fruit, pastries, cereal, yogurt, beverages and much more. The Community Room boasts wonderful views, as do most locations on our 6.5 acres, and it's a wonderful meeting space for your group to plan your exciting day.
The Community Room comfortably seats 40 people comfortably and day-use reservations are available for your group. When booking for the day, amenities include use of the entire room. Please call for day-use reservations in advance.
Activities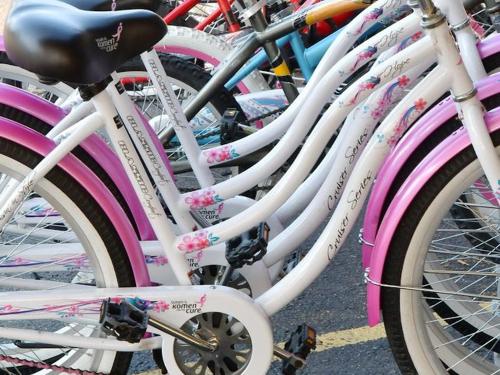 Murphy's offers activities designed for guests of all ages. Whether you take a dip in our pool or our giant hot tub, play one of our many outdoor games, your group is sure to have fun.
New this Summer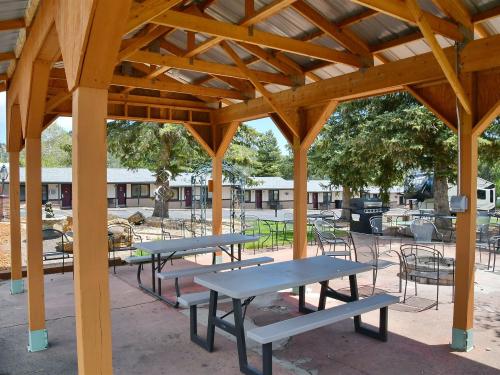 Family-friendly movies will be offered to our guests on summer weekends in our outdoor pavilion. Bring along a blanket and snacks and enjoy movies under the stars.
Gazebos & Pavilions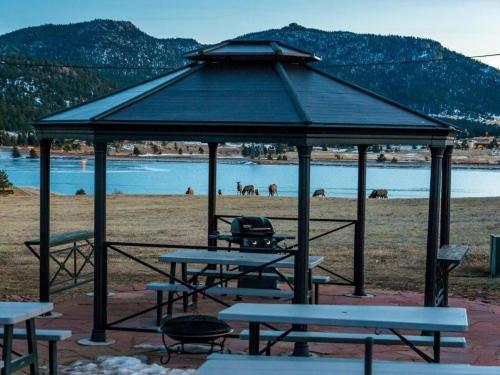 Murphy's Resort has on-site Gazebos and Pavilions which are ideal for group celebrations and gatherings. Gazebos are perfect for small groups and our Pavilions are an excellent choice for large groups. All Gazebos and Pavilions are covered and have picnic tables, benches, gas grills, nearby fire pits and access to all on-site activities.
Hospitality
Murphy's Resort staff and its managers, Loretta and Bruce, welcome all visitors with the goal of ensuring your stay is nourishing and uplifting. They treat Murphy's Resort like it's their home, which it is, as they live on-site and are available 24/7. Loretta and Bruce, and in fact, all of our staff, believe in good, old-fashioned hospitality served up with a smile, and the generous and friendly treatment of all our visitors and guests. Loretta and Bruce hike all around Estes Park in preparation for an item on their bucket list: Hiking the Appalachian Trail! So, be sure to let our staff help plan your activities because we love this area and know all the hidden gems around Estes Park.